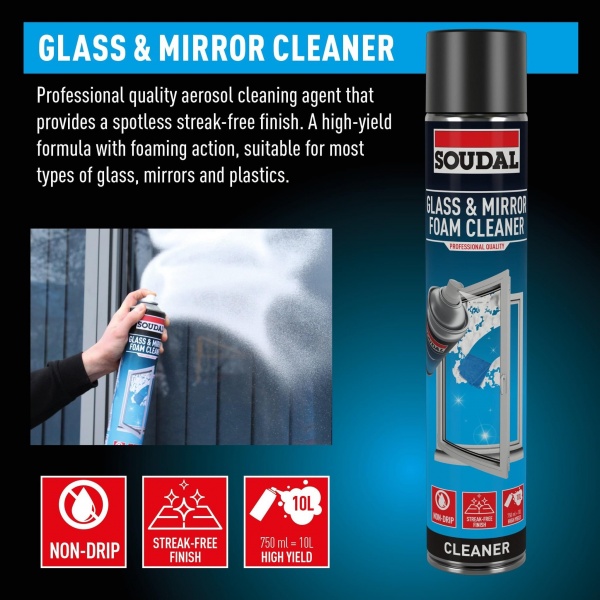 Special Offer Glass Cleaner x 2£4.99
Soudal Glass and Mirror Industrial Strength Spray Cleaner
MPN 156176
Barcode 5411183177093
You must be 18 years old or over to buy this product.
Soudal Glass and Mirror Foam Cleaner is a highly effective professional quality fast acting, non-smear, cleaning agent.
The cleaner is well suited for the removal of grease deposits such as finger prints, insect excrement, nicotine, soap residues and other dirt.
Use on most types of glass surfaces, mirrors and other hard surfaces.
The cleaner dries without leaving any streaks and does not stain.
Soudal Glass and Mirror Foam Cleaner is a cleaning spray with active foam technology in aerosol packaging.
The aerosol packaging also allows difficult-to-reach areas to be cleaned effectively and effortlessly in just a matter of seconds.
Cleaning of plastics and hard surfaces such as chrome and laminates.
Can be used around the home as well as professional and industrial applications.
Benefits and Areas of Use
Use on glass mirrors and plastic
Chrome and laminate cleaning.
May also be used on other plastic's such as garden furniture.
Fast drying
Removes ingrained dirt.
Fast Acting
Fast drying
Non smearing
Multipurpose use
Non abrasive
Time Saving
Perfumed
Cleans and degreases
Economical in use 750ml = 10 Litres of cleaning agent

Instructions
Shake the aerosol can well before use.
Keep the aerosol can upright at all times during use and fully press the nozzle.
For best results, apply soudal Glass and Mirror Foam Cleaner on the surface to be cleaned.
Let it work for about 20 seconds and then rub thoroughly until the surface is dry.
Always work with a clean cloth to avoid contamination of the surface.
This process can be repeated where necessary.
Test for adverse effects on the surface in advance this is rare.